Me and my team at Toycon helped in organizing this toy event for Funko, its our first time to have a different toy show and not just mainly about toys, comics, or cosplay convention. This new event is very helpful in our end that we should try a different pop culture show for everyone.
Funko Pop! is a new toy figure that is making waves since last year. I've seen this toy figure from our Philippine Toycon event and I refuse to get one because they are so cute and I might start to collect a new line for my toy collection at home. But I gave up and got two figures from last year and now I got 4 more here at home hahahaha.
We now co-organize the Funko Pop! Roadshow Philippines with Mindstyle, Resorts World Manila, Arigatoys, Big Boys Toy Store and Funko Funatics Philippines.
It was a successful show and this event will be extended in our upcoming Christmas Toy Fair this Dec 12-14 in SM Megatrade Hall 2, I also heard that there are plans the 3rd roadshow will be in Eastwood Mall.
I've been absent in every meetings for the show, but I'm always updated on what's going on and I did my part for the digital marketing and promotion of the event and it was very successful. Thanks everyone for coming and let's hope to bring a big and better Funko Pop! Roadshow next year!
So here's my short blog report and also my experience in our event… but for a spectator perspective, let me show you around what we have here in Funko Pop! Roadshow Philippines.
I have no knowledge about the value of a Pop! figure but I learned from this event that these Freddy Funko Pop! figures are very rare and expensive. The regulars are sold up to US $ 150 and above based on its repaint and design.
Few days ago,I just embraced the pop culture side of Funko, when I attended their Funko Hikari figure show and auction. And wow!! each 1:1 limited edition figure is sold at PHP10,000 up to PHP20,000 and up!! Then the one of a kind paintings from Funko Hiraki artist were sold along with the bunch of Funko Hikari and everything were auctioned off and was sold at PHP 180,000…whoa!!
But that's the value…the more limited and rare..the price increases, just like a collectible NBA card or action figure.
For the commercial release of Funko Pop! they got some Marvel, Disney, movie and tv characters, from PHP 150 – PHP550, depends on the design and popularity of the character. I recently saw lots of Marvel and Disney Pop! figures in Toy Kingdom, but they last for only weeks and expect to be sold out that quickly.
At the Funko Pop! Roadshow event, Funko and its official distributors officially launched the Dancing Baby Groot Pop! figure and this is the first and only launch globally.
Prototype figures were also sighted at the exhibit area, here I spotted the Groot Hikari figures. These prototypes are priced like gold, because they are the first model before the actual figure is made.
Also there are prototype Pop! figures that are on exhibit. I think some of it are auctioned off during the 2nd day of the roadshow.
We also spotted some Funko Pop! artworks at the exhibit area…and here's the contest area at the table. Featuring the custom Pop! figure contest and the Pop! photography contest
One of the contest entry for Pop! custom figure contest. Many kids want to take home this custom made Funko Pop! Jollibee hahaha. its so cute!
One of the best custom Pop! figure is Andres Bonifacio.. omg! I want to own this and also hope they release a National Heroes versions, like Jose Rizal, Juan Luna and Emilio Aguinaldo.
One of the iconic Filipino superhero is Darna…here we can see another Pop! custom figure of Darna
We also have the photography contest..here are one of my favorites
Stay Puft Marshmallow man
The Walking Dead Pop! figure photo diorama.
Here's my favorite Pop! painting exhibited here in our show
Big Boys Toy Store booth, they sell lots of Pop! figures. I got my Dancing Groot here. Thanks Sean!
He told me that all stocks were sold out for two days, a total of 450+ Groot figures are sold. Next re stock is next 2 weeks.
More cute Pop! paintings
Omamori doll Pop! painting
Whoa!!!! Aswang Pop! painting.. is this a sign that we will have a pinoy Pop! figure officially released by Funko ??
The life sized Pop! Maleficent figure is the most loved selfie section here at the roadshow event.
Its really Christmas here in Newport Mall in Resorts World Manila
Here are the Pop! figures sold by Big Boys Toy Store
Check out the Guardians of the Galaxy Pop! figure line
50% bobble head figure from Filbars
Jungle Book Pop!
Some Disney characters in Pop! size figure
super collectible stuff displayed at Big Boys Store..and whoaaa is that a dancing baby Groot prototype???
hahahah! Sean of Big Boys Store got his own Pop! version.
gusto ko din ng sarili ko version na Pop!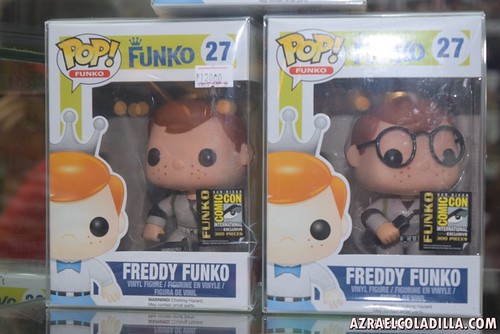 Exclusives!!! Freddy Funko in Ghostbuster outfit.
Spongebob in Pop! size figure!! priced at PHP 1495
Disney group cosplay group were also here at the event, then on day 2, the members of the Justice PH visited the roadshow event. Thanks to Glen and his team of super heroes for supporting us.
We got a press con here in Newport Mall, here we met the members of Mindstyle, Arigatoys and head of Funko Funatics Philippines and also our very own head for Philippine Toycon to talk more about the Funko Pop! Roadshow Philippines.
It's a fun press con and I learned a lot of things about Funko and its figure toy line.
I didn't know that Mindstyle brought over Emi Uchiki, she's from Mindstyle and also the artist behind the Omamori doll Pop! figures, she also created her own Pop! figure named Emi too.
here's Cholo of Philippine Toycon hahaha. He is a newbie in collecting Pop! figures but he shared that he acquired 100 plus Pop! figures in two months..whoaaa!
Here's Emi showing her Pop! figure creation named after her… actually its her in Pop! figure version
check her own figure -
http://www.funkopoppriceguide.com/guide/p/Pop--Asia/1408/Emi/
I think this is my only photo at the roadshow event hahaha.Thanks to Raffy Pekson for snapping a shot of me at work. He caught me giving away the loot bags and Pop! figures to our present media and bloggers.
Thanks so much for the support and see you all at the next toy show!
links:
Philippine Toycon
www.facebook.com/toyconph
www.toyconph.com
Mindstyle
https://www.facebook.com/mindstyleph
Funko
https://www.facebook.com/originalfunko
Funko Pop! Funatics Philippines
https://www.facebook.com/groups/FunkoFunaticPH/
Big Boys Toy Store
https://www.facebook.com/bigboystoystore
Arigatoys
https://www.facebook.com/ArigatoysCollectibles
Resorts World Manila
https://www.facebook.com/rwmanila
Funko Pop! Roadshow Philippines – collectors item and prototype figure on display
Pop! Custom – The Funko Pop! custom figure contest
Pop Clicks – the Funko Pop! photography contest
Exhibit area
Funko Funatics, and sellers area
Funko Pop! customs
Big Boys Toy Store
Cosplayer guest
Press Conference segment