The best tip that I learned coming from culinary expert Chef Sandy Daza, its about good food will be more delicious and yummy when you prepare it with lots of happiness. Its really true! and Im very happy that this cooking session with Maggi because it really spice up our passion for cooking and also eating, plus they've shared two easy to make recipes that we can follow with no sweat.
Im so happy that my wife Lace is our general or governor of our kitchen, she's the boss and she's our chef at home that brings lots of love and happiness in our food. But when our 5 year old Ashton got exposed to cooking and baking, the love and happiness went double… and the triple love comes to me when I taste it and appreciate the cooking they've made.
Im not a kitchen expert, but I do follow what's on the cooking instructions, you wont get a bad taste if ever you followed the instructions, its like building a LEGO structure, and you get the complete build if ever you followed the instructions.
Same goes to cooking, just read and follow the instructions in order to get the right taste. Im glad that recipes provided by Maggi were so easy to follow, the ingredients are so simple and the cooking ways is fast and do-able.
At the Maggi and Chef Sandy Daza "Daza way you cook it" cooking lesson session, he invited parents and kids to try his specialized recipe with Maggi and we experienced the way to cook it with lots of love that makes the food really delicious.
Lace and Ashton at the kitchen of Cookery in BGC
Ashton is excited for this..and thanks to Mommy Lace for training our little boss at home how to bake and cook. Ash is not afraid to see a hot pan, spatulas and chopping board.
Kitchen at Cookery BGC
Daza way you cook it!!! by Chef Sandy Daza
Im excited to see chef Sandy in action..I was able to hide my fanboying during the entire event hahaha.
Lace and Ash are now ready to cook….wearing an apron and chef toque
my cute loves!! sarapan nyo luto ha hahahah
Chef Sandy Daza shows cooks with them and teaches them the step by step in preparing the ingredients and cooking it with Maggi
Maggi food products are a good partner for your food – Maggi Magic Sarap, Maggi Magic Sinigang, Maggi Oyster Sauce, and my fave..the Maggi Savor (comes in Classic, Garlic, Calamansi, hot chili and chilimansi flavors)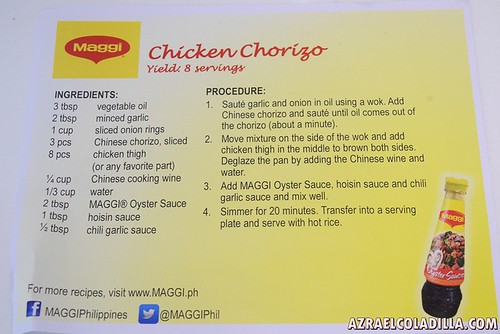 First recipe to try is the Chicken Chorizo
First, Chef Sandy teaches them how to mix the sauces before cooking it with chicken meat.
It was a fast preparation and Im surprised that it was very simple
After 30 minutes, we now have this Chicken Choriizo meal
I love the taste, it reminds me of a caldereta with spicy flavor from the chorizo
Good job Chef Lace and Chef Ashton!
Next recipe to try is the Fried Rice.
Lace and Ash follow what Chef Sandy is told them to do
I just learned lots of things when cooking a fried rice. I learned it from Chef Sandy how to fry it the proper way and how to add fried egg on it.
Chef Sandy Daza at the 2nd session of Daza way you cook it.
Im so proud that Ashton didn't stop in cooking even he experienced his first hot oil burn on his finger.
We told him that it was okay and then we told him to stay away a bit from the pan when cooking.
Main ingredients for the fried rice were cooked together before putting the white rice into the pan
Ashton helps her mom in mixing the ingredients into the hot pan
And we learned from Chef Sandy how to use two spatulas in frying the fried rice.
At home, we just use one, but using two is much more easier and the fried rice cooks so fast.
Finished!!
Congratulations again to you guys!!
We took home the food and Im so happy that its so delicioso!
Chef Sandy Daza, Lace Llanora-Coladilla, Ashton Coladilla with Geetha Balakrishna, Business Executive Manager-Food Business Unit, Nestle Philippines and Aurora Alipao, Head of Consumer Engagement Services and Corporate Communication
"The dishes do not even have to be complicated nor expensive for it to be a source of happiness at home. Eating a delicious meal inspires happiness but you also create precious memories when you prepare and cook together. You create happy moments that you can always go back to"
- Chef Sandy Daza
"We have been conducting Maggi Sarap Sustansya Caravan,a 5 day event that visits communities, designed to educate and equip Filipino mothers with good kitchen practices and habits. Our goal is to build a community of mothers that thoughtfull ensure the right balance of taste and nutrition in the family dining table"
- Geetha Balakrishna, Business Executive Manager-Food Business Unit, Nestle Philippines
Photo op with the cooking mama and papa and Maggi
The awesome part is that they receive certificate signed by Chef Sandy Daza.
omg..we're going to frame this and hang it in our kitchen..
good job Lace and Ash!
Visit MAGGI website for complete info of the recipe and also wide selection of food with homemade happiness
MAGGI
www.maggi.ph