Okamoto, Japan's number 1 brand of condom is on an aggressive move to promote their brand here in the Philippines. I've encountered this brand when I attended the hot air balloon festival last Feb. and Im not totally aware that they existed. It's a new brand that entered the market and they are non stop in attending a series of festivals and organizing a bar tour just to get the name out.
I attended their event few days ago for a TVC launch and I just want to check out how a condom brand do an event in Manila, its my first time also to cover and attend a condom brand. Ok lang naman. pang adult naman e, post ko na lang ito sa late night ahhaha.
Few nights ago they unveiled to us their SFW TV commercial that will air on July 10, 2016 at these channels: Star Movies, Fox, Jack TV, ETC and MTV Philippines
Here's what I've learned about Okamoto
- Okamoto is made by Okamoto Industries Inc, the world leader in production of high quality and super dependable latex-rubber condoms since 1934.
- Their condoms are much lighter, stronger and with supreme sensitivity.
- They use this tech called Sheerlon Technology, a latex compound created by Okamoto that brings a soft, silkier and natural feel.
- Okamoto is a carrier of a Guinness World Record last April 2010 as the thinnest condom in the world
- They are now sold at 7 Eleven, Family Mart, Robinsons Supermarket, Puregold and PCX
my comment: Ok kaya pala wala sa Mercury Drug at Watson. it is only available on selected stores.
Im familiar with the Platinum version, but I didn't know that they have more kinds that have its own features.
Here's my first encounter with Okamoto brand. I met them during the PH hot air balloon fiesta in Clark Air field in Pampanga.They gave away samples to adults during the fest.
Okamato is on full blast on a series of events, so watch out for them in an event near you.
Below are some events they participated.
Up next: Okamoto will be at FHM Philippines Sexiest Women, Maddest event and Kadawayan Festival
Sometimes they do a challenge that they invite people to bring a competitor brand and then they will replace it with an Okamoto. that's how you go to show you are the best brand ever.
So see you soon at FHM's event.
Here's a screen cap intro of their TV commercial.
The best here is that there's this cell shaded animation of a geisha lady walking and then dragons came flying over the sea.
As for my review: there are no actors involved, no humans doing funny make outs on the screen, its just plain visuals and animations. And a flash of Okamoto's product.
Back to the TVC event launch
here are some of my snapshots.
The Fashion show of models wearing a kimono
They also have nude models in body painting.
Sorry, I wont post the entire photo set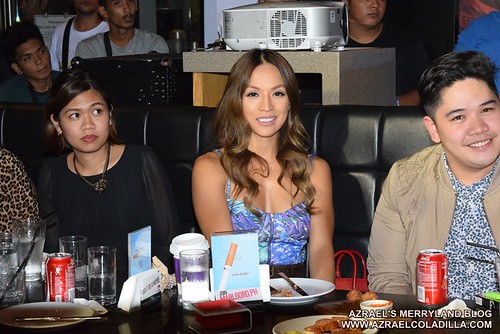 Spotted at the event--- celebrity mom Aubrey Miles
Be updated in a loop
Join Okamoto Philippines FB page -
https://www.facebook.com/okamotophilippines