Our Baguio blogger friend brought us here Inglay Restaurant in La Trinidad, Benguet. Since we're on the way to the strawberry farm in La Trinidad, we decided to eat our lunch here before going to the farm.
The resto serves exotic dishes and traditional meals of Benguet with affordable price
If you are going to Strawberry farm, you'll notice this small resto when you pass by from Baguio City.
INSIDE INGLAY RESTAURANT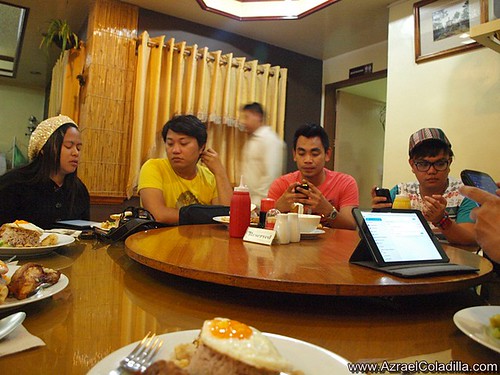 Almost everyone are busy Instagraming and Foursquaring hahahaha
FOOD
Etag soup
It's a year old pork or beef preserved in traditional procedure. I called it the old way of preserving a meat and turning it into a ham.
It's a bit salty but the smokey flavor is good
Saver's meal
For a price of PHP 55, pwede na!!
House iced tea
Our desserts…… suman style with strawberry ice cream inside
the label says it all
I super love the Etag meat here in Inglay resto
I want to go back here because eating an Etag is one of my dream come true
INGLAY RESTAURANT
Address: Kilometer 6, Betag, La Trinidad, Benguet, Baguio-La Trinidad-Bontoc Road, La Trinidad, Benguet
Facebook:
https://www.facebook.com/pages/Inglay-Restaurant/284721401631487