Birthday part2

Its my 2nd day and extension of my bday celebration. This time I'm with Lace and we ate pancit and we ordered pizza, that pizza from Pizza Hut with mozzarella cheese stuff crust. It was fun yesterday as we stuffed our stomachs with pizza and food.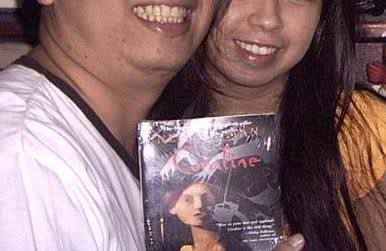 she said that she has a surprise, and I know its a bday present, she said that I should close my eyes as she grabbed the present from her bag, on my mind I was thinking of a shirt, a watch hahhah, or an action figure. but when she told me to open my eyes, in front of me flashed a Neil Gaiman book title "Caroline", ohh..this was the book I want to buy!! I'm glad that I didnt bought one, so thats why she's telling me If I already bought one. and I didnt know that she will bought one book for my bday..thanks honey!!

it was a super hot day for us and we enjoyed the day together, but I got sick and feel drowsy after that long session. I began to chill when we are walking inside Glorietta, at first I didnt mind it,maybe that it might be cold. and then when we eat and read books in Java cafe in Powerbooks, I felt a very weird feeling, now I announced to her that I'm sick. she felt it too so after reading and drink that javapuccino. she bought me medicine and take it immediately, while going home alone I felt weak and the medicine is taking effect.

and this sunday I missed the Licofest 3 at Lico's house, its a celebration and food fest to us Artists' Den and Deviant Art, and also supposed to be an extension ofmy bday, due to my weak condition, I didnt make it and txted him that I'm sick and he suggested that I take chicken soup and raw garlic to cure me. thanks man!

and now I'm here at home recovering but almost already in my 70% full energy, coz I can stand up and walk properly, but the problem is that I dont have any taste bud to taste my food. but its okay.. Im nearly recovering and it was a long sunday of lying in bed.


and yo! Neil Gaiman update here!!
hohohoh..hope I can make it to the gathering. coz I got now my own book.
and waiting for the invitation card from the British council. I think they gonna mail it to my doorsteps or just attend and sign the attendance form.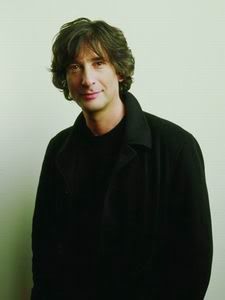 photo of Neil Gaiman that was sent to me by the organizer in hi-res to be put on the video presentation. I think this is the reccent photo of Neil Gaiman, coz they require this photo to be put up coz photos in the net are already old.

My Neil Gaiman in Manila Audio Visual presentation will be show at the event and thanks to the organizer for trusting me to make one for them.
its fun to do video stuff its just like exercising my skills and idea.

you can take an old version which I played during the toycon.
view and download here

and here's their review
-Azrael, that was so cool! Thanks so much! We would love to play it during the event....

I used "Wait for sleep" music by the progressive rock band,"Dreamtheater", Its just like my chosen tribute music and song for Gaiman and his Sandman works.

anyway here's the update

Schedule
JULY 9, Saturday:
- Doors to "The Gathering" at the Rockwell Tent will open at 3:00pm

JULY 10, Sunday:
- A Reading and Book Signing at Fully Booked Promenade Greenhills
(opening July 8, 2005) will start at 2:00pm

JULY 11, Monday:
- A Press Conference (by invitation) and the British Council Writers
Forum at the Music Musuem will be from 1:30-3:00pm
- A Reading and Book Signing at Fully Booked Gateway Mall will start
at 4:30pm
- Winners Dinner (Raffle and Art Competition winners) at 7:00pm

Book Review contest
Fully Booked and JAM 88.3 have launched a "Neil Gaiman Book Review"
contest for all you aspiring writers. Tune in to JAM 88.3 for all
details and get the chance to meet and have a "mini-interview" with
Neil Gaiman!

p.s. Don't forget, the NEIL GAIMAN ART COMPETITION is still on-going,
so submit your entries now...

Rare 1st printing books for auction
Check out the Neil Gaiman Fully Booked items on www.bidshot.com! Rare
first printing hard covers of Neil Gaiman's works are on auction. On-
line bidding has started and it ends on July 8,2005. So hurry before
everything gets going, going...sold!

Mirror Mask clip at the event
We have great news! As most of you know, the film adaptation of Neil
Gaiman's "Mirrormask" (directed by Dave McKean!) premiered in the
Sundance Film Festival this year and will be shown (limited release) in
the United States at the end of September 2005. As a special treat to
his fans, Neil Gaiman will be showing an exclusive 13-minute clip of
the movie in "The Gathering" on July 9! Another reason to go to this
exciting event!


Questions for Mr. Gaiman
In less than 2 weeks, Neil Gaiman will be here! We hope to see you
all in the first of many events that will take place - "The Gathering"
in the Rockwell Tent on July 9, 3:00pm.

One of the highlights of this event is a Reading by Neil Gaiman. And
after that, the floor will be open to questions from his fans. To
facilitate the order of questions, please send in (email us through
this group) your questions as early as now and include your full name
and contact details.


send your questions to gaiman_fullybooked-owner@yahoogroups.com