They've announced last month that Cebu Pacific will launch a new series of inflight special meals in partnership with MIASCOR-Gate Gourmet Philippines. The 12 new dishes are now available this September 2017 for domestic and international flight, if you are planning to have a long or a short haul air travel and want to eat your meal while waiting for the plane to land, then you should check out the new taste and flavors of the inflight meals, also the food are HALAL certified food and adhere to the Hazard Analysis Critical Control Points (HACCP) system for international food safety.
The photo above is the actual packaging of the inflight meals. The CEB Meals can be pre-ordered 24 hours or longer before your flight. If you booked your flight for a week before your travel schedule, then you can order it right away through the CEB booking site.
And if you booked your flight a week ago and then later on 24 hours before your flight you decided to try one of your fave food via the CEB Meals, then CEB suggest you place a pre-order via the booking site so that their chefs at MIASCOR-Gate Gourmet Philippines can prepare your food and freshly pack it before the flight.
If you failed to order before 24 hours,then you can just buy their available inflight meals and snacks, just ask the flight attendant what are available on board. Or if ever, just bring your own pack food and eat it during your flight.
MIASCOR-Gate Gourmet Philippines is a company that specializes in developing inflight meals for airlines in the Philippines, they provide the food for Cebu Pacific and also other airlines. Food developed and offered are all HALAL certified and they did a series of food tasting test on ground and also on flight, just to make sure that the taste of the inflight meals are good and not bland.
I also learned that the characteristic of our taste buds changes when we are on high altitude flight. I think the body and senses changes because of the high pressure when we are on a plane and above the clouds. Our blood and breathing also changes due to the factor of high altitude travel.
Inflight meals like from Cebu Pacific got a different recipe and taste when they are prepared on land. It could be that the salt, sweet, and sour flavor are stronger because we need a strong but balanced taste of food when in high altitude travel. That's why inflight meals are so good! The chefs adjusted everything without overpowering too much flavor and all are tasted normal.
I just learned this Chef Mark Javier Ledesma of MIASCOR when he shared to me how they developed the inflight meals of Cebu Pacific.
Take note: they've added nutritional value and also list of ingredients to their inflight meal packaging, this is for their customer to see and read the label before consuming the food. Some people are concerned on the nutritional content of their food, so reading the label will explain everything.
Before I present the inflight meal of Cebu Pacific, let me do a short virtual tour around the HQ of Cebu Pacific.
The launch of the new inflight meals were launch here in one of their event venue and its my first time to be here and Im so pump up to explore and also check out the new food of Cebu Pacific.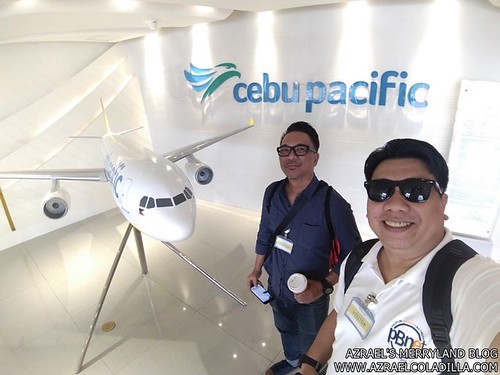 Inside: We spotted 2 large scale models of Cebu Pacific airplanes - an Airbus A330, A320 and ATR 72-500
We are also welcomed by their friendly flight crew
The glass wall in the building is like an emoticon of different kinds of air travelers.
Which one are you?
I might be that guy with the backpack.
Cebu Pacific staff also showed us their roof deck. Its the roof of their building where you can spot all the planes parked and using the airport runaway.
It is one of the secured area and us media were given a chance to visit, some staff and employees are not allowed to visit this area.
The roof deck is also a good spot for plane spotting.
We also visited their flight crew lounge area. Where they relax and also check their emails and use the computer
with Myke Soon, we're sitting on the lounge sofa, checking how comfy it is.
Incoming more flight attendants to use the lounge.
Okay, let's go back to food. Here's Chef Mark Javier Ledesma of MIASCOR doing a short demo on how they cook one of their featured dishes.
here are the new inflight meals of Cebu Pacific
The new inflight meals of Cebu Pacific features the three kinds of food series.
1) Asian Series
2) Filipino Series
3) Western Series
Each food series has 4 kinds of food that are available to pre-order before your flight. Price ranges of the inflight meals are around PHP350 and up. I dont have the right details of the price, but I will post it here once I've tried the meal on board.
For the Filipino Series, Im sure everyone loves pinoy food. Some of us want to eat a much simple food like the pancit, and for the veggie lovers they want to eat a beef laing, for people who want fish and a bit of spicy, there's the spicy bangus sisig to satisfy their hot and spice taste buds, and for others who want to eat and go, there's the beef tapa and egg burrito up for bites.
Pancit Bam-i Guisado
Beef Laing
Spicy Bangus Sisig
Beef Tapa and Egg Burrito
For the Asian series, Cebu Pacific will take you to explore the other flavors of our neighboring countries. Middle Eastern food fans can also try the Beef Chelo Kebab. Singapore is know for its salted egg flavoring in their dishes, here's the CEB meal version and they present the Salted Egg Glazed Chicken and the Salted Egg chicken in baguette- which is my favorite from this Asian series set.
For Indonesian and Malaysian cuisine, the Chicken Satay with cashew nut sauce is perfect for you. They didn't use the peanut sauce on it, just a precaution because some of us aren't aware we are allergic to peanut sauce--- kahit ako di ko alam allergic ako.
Beef Chelo Kebab
Salted Egg Glazed Chicken
Chicken Satay with cashew nut sauce
Salted Egg chicken in baguette
Cebu Pacific also added the Western series in their CEB Meals. Western food fans can also try a new concept of meals like the Chicken Alfredo Pasta, and Baked Dory Tropicale.
For those who want to eat a light meal, they can pre-order the Chicken Caesar Croissant and the Hazelnut Banana Croissant, always good to pair it with your hot tea or coffee while on a short haul flight.
Packaging of the actual CEB inflight meals
Chicken Alfredo Pasta
Baked Dory Tropicale
Chicken Caesar Croissant
Hazelnut Banana Croissant
REVIEW:
During my past flight with Cebu Pacific, I already have my favorite and regular meals on board--usually coffee and hot noodles.
I've tried the new inflight meals and its my 1st time to try it, and Im surprised that it taste good and for sure if you eat this over 35,000 feet and over the clouds, it might taste more good because our taste buds will adjust and maybe there's more hidden good flavors when eaten above the sky.
For my favorite
1. Salted Egg Glazed Chicken
2. Spicy Bangus Sisig
3. Baked Dory Tropicale
The three are my favorite inflight meals of Cebu Pacific. Maybe because the taste and flavor are a bit strong and okay for me. Im not the person who loves salty or strong flavor, but Im the guy who loves creamy, tasty and spicy flavor.
I heard that the Chicken Alfredo Pasta tastes good, but I didnt got a chance to taste it. Because they ran out of food samples during the taste test and wow! I think it was one of the media favorite during that event.
The new inflight meals of Cebu Pacific are now available starting this September 2017. You can pre-order them before your flight within the 24 hour range or longer. You can also upgrade the pre-ordering option, all you have to do is log on to
www.cebupacificair.com
and start the pre-order process.
Thanks to Charo for having us
Im now excited on my next flight this September with Cebu Pacific.
According to Cebu Pacific website, one passenger can pre-order two food for short haul flight. For long haul flight, you can also order dessert and also chose to have 1 or 2 meals.
See Also.
https://www.cebupacificair.com/en-us/pages/plan-trip/add-ons/pre-ordered-meals-on-fun-cafe-terms-and-conditions