December 11, 2015 is the big moment for us Star Wars fans, because it's the first event that made a big hype for the upcoming Star Wars: The Force Awakens movie here in the Philippines. The fun part is that this event is organized by Globe and Walt Disney Company SEA, the partnership of two companies helped in promoting Star Wars fandom here in the Philippines and Im very happy that we get to experience an awesome Star Wars event without leaving the country.
The event titled "Star Wars Galactic Celebration" is our very own Star Wars event that took place in Bonifacio High Street Central in BGC, Taguig City. We went to the Dec 11 media preview to experience first hand the Star Wars Play Hub, the biggest play hub ever with lots of Star Wars content. The big event was scheduled to open for the public last December 12-13, 2015, and it was very successful.
I'm very happy because Star Wars fan blood was transferred to my 5 year old son Ashton. I remember that my first Star Wars exposure is when my dad brought me to the cinema to watch Star Wars: The Empire Strikes Back, my adventure with Star Wars started there and it remained til I reached the age of 38.
Today, my son Ashton, is so hyper about Star Wars, I bought him Kylo Ren light saber and mask and also made him a DIY costume to blend in this event. I remembered my first ever light saber that my dad bought it in a store, its funny that the handle of the lightsaber is a big plastic flash light.
Today, kids are so lucky because toys and merchandise of anything Star Wars are easy to acquire..they are every where!!!
At the event, I showed the Star Wars Battle Pod arcade game to my son, I always babble this to him because of my amazement of the semi 360 degree view and the flight simulation of starfighter vehicles from the Star Wars universe. Here we pilot the X-wing and our mission is to destroy the Imperial Tie Fighter and also the Death Star space station.
We are so pumped up with lots of Star Wars mania in our veins, and this arcade game added more excitement.
Ashton and his Kylo Ren costume, we were waiting for the 3D mapping projection show at the walls of the Globe Tower in BGC.
This is the first time our son enjoyed wearing costumes, back then when he was 3-4 years old, he hated wearing a mask, and he got tired of wearing his Iron Man costume. His auntie from the US bought him a Thor costume, but he wore it one time only during this birthday.
But today…. Ashton never loses an energy because he wore the costume for hours..from the start to the end of the event.
And because he is in character of Kylo Ren, he did some quick light saber fights with fellow Star Wars fans (who are members of the Philippine Light Saber Guild)
Kylo Ren-Ash vs. Darth Maul
Vs. a female Jedi
Jedi from Star Wars Rebels
vs. a Jedi from the Clone Wars
vs. Count Dooku
and also…vs. EarthlingJedi blogger
Waiting for the 3D mapping show
Im glad that it didn't rain that night.
Spotted Myrza Sison taking an Instagram photo of our Kylo Ren-Ash
Ashton received a lot of photo ops too from people in costume
photo op here and photo there….
Kylo Ren-Ash never get tired hahahaha. He super enjoy it
The event started with the Imperial March theme song, and then we spotted these Stormtroopers crossing the street.
Also, the road was blocked for 15 minutes, just to give way for the 3D mapping show at the Globe Tower.
3D mapping show at the Globe Tower…we saw X-wing, Millenium Falcon and Tie Fighter flying around the walls of the building.
Nangawit lang kami kasi nakatingala eh hahahaa
BB-8
Kylo-Ren
After the 3D mapping show, we rode a private BGC Bus going to BHS Central, it's the venue for the Star Wars Play Hub and Galactic Celebration
Ashton stopped infront of this Kylo Ren artwork and he told me to snap him a photo with it
Then we saw this awesome tarp wall with characters from the Star Wars: The Force Awakens.
Ashton did some Kylo Ren moves during his TV5 interview
Im still looking for that video on the net. I hope TV5 uploads it
Inside the Star Wars Play Hub and Galactic Celebration
We enjoyed some light snacks and drinks while waiting for the program to start.
Globe CEO and with a rep from Walt Disney Company SEA raising their light saber to open the event to the public
Light saber duels by the Philippine Light Saber Guild
Real saber fight choreography….
Jedi moves that are hard to master
My son in his jaw dropping moment, as he see a live action light saber battle..
In this moment, my son Ashton got scared of Darth Maul hahahahah
I told him that's only a make up and not with real horns
At the event, I was assisted by these two lovely ladies in Princess Leia Organa get up
I signed up and pick up a raffle from their fish bowl.
Too bad that I pick up a raffle coupon with labels "get luck next time"
Just checking the booths and merchandise area for Star Wars
They brought all the Star Wars merchandises from their Globe Gen 3 store.
Everyone are welcomed to buy their Star Wars item
At the Havaianas booth, they showcased their flip flops with lots of Star Wars design.
I wonder why Skechers haven't released yet their Star Wars designed sneakers.
Star Wars shirts from Folded and Hung
Star Wars photo op booth by HP
Hobbes and Landes booth --- everything is for sale…
Entertainment reporter Marie Lozano picks up the Android App-controlled BB-8 robot.
Iconic socks with lots of Star Wars designs….so cute
Spotted a Metal Earth model kit Tie Fighter
Funko Pop! Star Wars….always the cutest merchandise ever!
FX 3D Deco Light… I forgot, we have the Yoda head and I haven't use it yet.
The holy grail of the event….. the Star Wars Battle Pod arcade machine.
you can visit Globe Gen 3 store in Greenbelt 4 if you want a free play sessions.
Hot Toys Stormtroopers
Funko Pop! Star Wars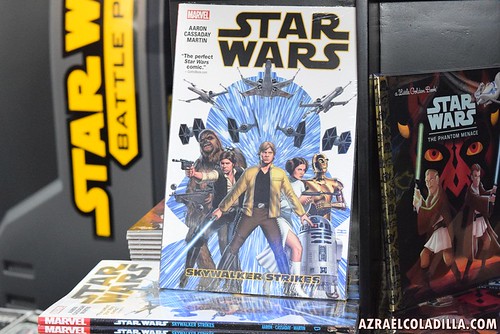 Comics and books from Filbars
This is an interesting book for toddlers…hmmm
At the right side of the venue, you can also play some on the spot game challenges, and if you completed the task and won the game, you can take home some Star Wars premium items c/o Globe.
I want this beanbag…..
The most easiest game…trivia contest
spotted Ashton carrying a BB-8 droid for photo op
After the saber fight duel….they are now friends…. Sith loves another SIth
Kylo Ren-Ash meets his kuya Jedis
ga-awww moments…super cute to see Kylo Ren-Ash with a Scouttrooper in this photo op
The real BB-8 droid is not around, but this BB-8 life size statue is cute too!!!
You can CELEBRATE STAR WARS EVERYDAY
Even if the main event ended one day ago, you can still enjoy a Star Wars adventure by joining the Star Wars promo by Globe.
Prizes at stake are Star Wars premium items and a trip to Star Wars Adventure in the USA.

To join, just text FORCE to 2363 for free.

For more info
visit:
http://www.globe.com.ph/surf/promos/star-wars/star-wars-everyday

Follow Globe Telecom
https://www.facebook.com/globeph/