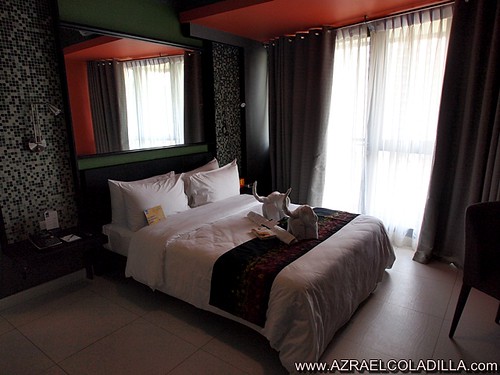 If you are looking for a spacious room with complete stuff that you need for a 3-4 days of stay in Makati City, then you have to check out my new recommendation here in my blog, because KL Tower Serviced Residences can match the level of those luxury hotels in the middle of the city. KL Tower Serviced Residences, owned by Kalaw-Ledesma family, is a new residential building in Legazpi Village, Makati, they opened last January 2014 and the building is not your ordinary residential or condo type structure, because KL Tower Serviced Residences can be your home for an overnight or even long stay, its like a condo hotel with a complete furnish set up, plus with swimming pool, play area, restaurant, gym, sauna and function room. The most surprising part here is that the rates are not that expensive.
Me and my family went on an overnight trip and stay here in Makati, we love to stay in a hotel that is strategically placed near malls or parks. It's a big help for us to relax and also have more bonding time with each other. KL Tower Serviced Residences is a 5 minute walk going to Greenbelt mall and it stood right infront of the Legazpi Park, a park for outdoor recreation, picnic and also the weekend market.
We prepared our trip here and we created our own itinerary, we make sure that we also drop by in Toys R US because our son, Ashton, wants to check out the toy store and buy a new toys for his Tomica car collection. My wife is the one excited the most because she's excited for that Legazpi weekend market on Sundays, and for me, I just want to relax, enjoy the view and also use their highspeed internet.
Its funny that KL Tower Serviced Residences glued us together three and we rarely go out of the building. We went out for dinner on day 1 and went out again for lunch on day 2. KL Tower Serviced Residences got everything what we need, we buy food good for 2 days and we just stayed indoors during day time.
let me show you around KL Tower Serviced Residences by this photo blog coverage.
Here's the KL Tower Serviced Residences, when I was introduced to this hotel residences, I thought that it was the same like the KL Tower in Kuala Lumpur, Malaysia hahaa. But then I learned that KL means Kalaw-Ledesma.
They will also launch soon "The Biggest Little Room", it's a gallery showcasing the extensive art collection of the Kalaw-Ledesma family. I inquired about that gallery room, but they told me that the area is still under construction last July 2014.
Let's give them some more time to finish everything, this hotel residences is on its 6th month old.
We stayed herein room 19-H, the other levels were for BPO centers, while the upper floor are for the condo residences, and then they have a floor for their hotel residences type. The room door is powered by a RF key card, just tap and then the door will be unlocked.
I was surprised that we got a big room!! Its their One bedroom Premier (priced at PHP6,700+ for weekends). My son got excited when he saw the room and then my wife became a room paparazzi and Instagram uploader after entering room 19-H.
The room label says that we have One Bedroom Premier, one bed room alright, but there's a small guest room with folding bed for your house help or child care, but we didn't have one, so I will just stay there and convert that as my office.
KL Tower Serviced Residences' rooms are equipped with full kitchenettes set up. We love this set up because we feel like that we are home. We wash the dishes here, cook and reheat our food and also store our drinks and food at the ref.
One of my favorite corner is the coffee bar
Here's an obligatory selfie again…. inside the bathroom
This is bathroom number 1. Located at the living room area and in front of the kitchen.
There's the guest room.
I actually sleep here because I converted this guest room as my office and charging area for gadgets, I want my gadgets, laptop and camera gear placed in one area, and because the room is big, I don't want to scatter my gadgets in all over the place.
The dining area.
I super love the set up and I feel that I own the place, but yeah, we own it for 2 days only haha.
You can call the room service if ever you want them to clean the table for you or clean up the room. But for our case, we just clean it by ourselves. We love the privacy here because there's no knocking or even room check after we checked in.
The living room is also great!!! there's an access going to the terrace, where you can view the famous Makati skyline, they are so beautiful at night. Perfect for romantic set up or even moon gazing.
The living room is equipped with a comfy sofa, telephone, table and a HD capable cable TV.
wow! that HBO HD almost glued us during our snacks time.
Thanks to KL Tower Serviced Residences for providing these magazine and also coloring book and activity book for my son. I'm not sure if they usually giving these to their guest.
Here's the view at the terrace area..oh wow!! you can see below the Legazpi park and the Union Church in front, you can also see the small buildings and the high rise building.
Awesome view..just click the photo to enlarge it.
Sky is blue…. it's a good day for some outdoor activities later at the park.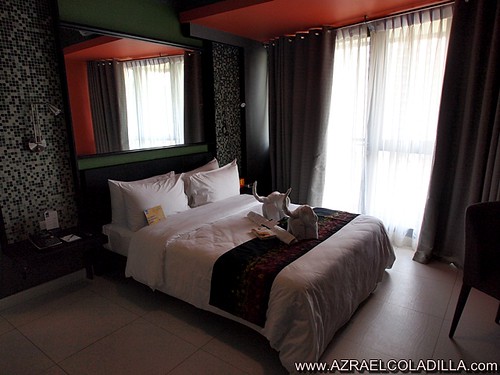 Here's the master's bedroom in our One Bedroom Premier room here in KL Tower Serviced Residences.
Its so big and the bed is best for two person. I let my wife and child sleep here. There's also a tv inside, a walk in closet and a big bathroom.
Bedroom stuff.
I just hope they have the alarm clock radio with iPod / iPhone dock.
The TV and the separate aircon inside the bedroom.
Over all, they have two aircon, one for the living room and one for the bedroom.
Here's a close up look on that elephant shaped towel hahahah. Its so cute that they also provided us some goodies.
The walk in closet and and way to the bathroom
Bathroom stuff. There's no bath tub in this room, but that's okay. The most important for me here is the bidet and the hair dryer.
Obligatory selfie again because there's another bathroom ahhaah.
For me-time moments…
The pressure of the bidet is in full blast, but you can adjust that and set it in medium splash.
geez..I just figured that out during my day 2 stay.
The lobby…our time to check out the pool
The swimming pool is awesome too!!! My son super enjoyed it here and from our hotel hopping experience, this is the only pool that we saw that my son love playing with the water. Because they have a separate platform for kids. It's a kid's pool within the adult pool. The pool is around 5 feet, while the kid's pool is around 1 1/2 feet I think.
No worries even if it rained or the sun is high, we are covered here and I'm glad that the water is not that cold.
I also spotted the sauna area, the shower room and the pebbles around the pool.
For me its like a mini resort already in the middle of the city.
We also saw the play area near the pool.
I hope they can add more play stuff here. Like a slide or a ball pit for kids.
That afternoon…the sun is high and hot all over the metro.
We decided to stay indoors and enjoyed the room here in KL Tower Serviced Residences
We just watched some Korean channel at the living room area. You can see here my son Ashton, so busy with his coloring book.
We enjoyed watching that food tv show in a Korean tv channel. We got more hooked on TV when they aired a new season for that cosmetic surgery tv reality show.
now who's glued on TV hahahaha.
After some snacks, we decided to try the pool. We also saw some inhouse guest and room owners enjoying the pool here in KL Tower Serviced Residences
So cute!! my first time to see Ashton swam towards me.
Dinner time~!
My wife brought some dinner food, we just reheated the food that we bought from Max's Restaurant.
After dinner, I helped her clean up the table and also wash the dishes.
Yup..we brought our own dish washing liquid…..wife is super prepared.
boom!! tulog… I spotted my son sleeping so comfy.
For me..this is the best comfy sofa ever!
At night…I just went out at around 11pm and enjoyed the city of Makati glows under the moon and stars.
I drank my coffee and I just stayed here for 15 minutes to take photos in slow shutter mode.
I turned off the lights in our room and I noticed that the glowing lights of the city illuminates through the room. wow!
It's the best photo ever that I took around 11:30pm
Time to say good night to Makati and KL Tower Serviced Residences
I finished my blogging stuff here inside the guest room and then slept for 6 hours.
the next morning was…
great!!!! the sky is clear and the morning breeze up at the 19th floor is awesome!
Time to eat our breakfast here in Kitchen 1B, located at the ground floor of KL Tower Serviced Residences. We have a complimentary breakfast for 3 here.
Inside Kitchen 1B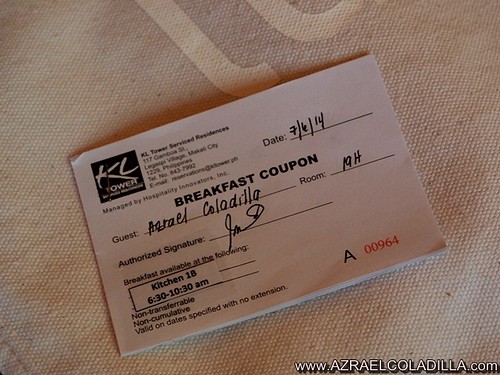 The kitchen looks like an art gallery or art activity center, I see lots of colors and artworks hanging around the restaurant.
Breakfast meal.
There's no buffet, but they have the set meal breakfast for each hotel guest. For us, it's the less stressful part because we no longer need to stand up and get food at the buffet.
Coffee and bread for starters.
And then..boom!! our table is full of breakfast meal!
I ordered anything there's bacon, that's why I ordered the American buffet. The breakfast meal is just right for us and it left me more room in my tummy, because we're going to dine more to that weekend market infront of the KL Tower Serviced Residences.
Our 2 day staycation is great and we love our stay here, I always recommend this KL Tower Serviced Residences already to my family and friends because of the rates and also the swimming pool, and don't forget that it stood near Greenbelt and a park. I was about to check in here again, after some weeks when I was so busy covering some events in Manila, its my first choice to stay because hotels in Makati are a bit expensive and the rates here in KL Tower Serviced Residences is just right.
Here's a sample rate that I grabbed when I tried to check in again in KL Tower Serviced Residences
you have to check their Facebook and Instagram for room discounts, because they offer good rates seasonally, for example you can check in to a one bedroom for only PHP3,500+
I our expectations were met and KL Tower Serviced Residences didn't disappoint us,we are satisfied for the beauty of the room, the pool, the food and the service they gave us.
We will check in again here soon!
KL Tower Serviced Residences in Makati City
Address: 117 Gamboa St., Legaspi Village, Makati City 1229, Philippines
For booking: Tel +632 84 500 84 /
reservations@kltower.ph
Facebook:
https://www.facebook.com/KLTowerServicedResidences
Website:
www.kltower.ph
Twitter:
http://www.twitter.com/kltower_hii
Instagram:
http://instagram.com/kltower_hii