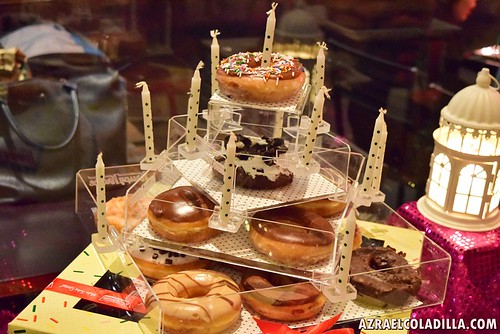 You read the title!!! this July 13, 2015, will mark the 78th birthday of Krispy Kreme, it is now celebrated globally and for the Philippine stores, they will treat us to this one time, one day discount – buy a half dozen of Original Glazed Doughnuts for only PHP 78 in selected Krispy Kreme stores in the Philippines.
It's the first time I have heard of this kind of promo and its one of the awesome giveaway from Krispy Kreme.
List of participating stores are posted here at
https://www.facebook.com/krispykremeph/photos/a.113800415299794.18689.113799788633190/1027503383929488/?type=1
And according to Krispy Kreme PH Facebook page – "Hi everyone! The coupons will be automatically distributed every 5 Minutes if you just registered to the app. Kindly wait for it on the rewards section. For the mean time, you can also enjoy the coupon available on our fb, tw and ig pages. Thanks!
#HBDKrispyKreme
"
Okay, I must get that app, then apply for a coupon and then take advantage of the super discounted treat for today only.
but then..
"Download the app and get your coupon! You can also screen grab or print the coupon too from our Facebook, Twitter and Instagram.
Click here for the mechanics:
https://www.facebook.com/notes/krispy-kreme-philippines-official/krispy-kreme-78th-birthday-promo-mechanics/953614338024899
"
They also allow screen grab!! yeahbaa!
valid only til 8pm. so tara lets!
Krispy Kreme is now 78 years old.
In the Philippines, The 1st store opened last November 2006.
And I'm so happy that I witnessed its first opening and also it converted me into a Krispy Kreme fan..
we dubbed it KK here in Manila.
but the best ever is…..
I won in a contest via votes and me as the 2nd placer for Krispy Kreme Fave Fan
http://azraelsmerryland.blogspot.com/2010/07/i-am-krispy-kreme-fave-fan-in.html
That was back in 2010, I didn't won the free trip to the Krispy Kreme factory in the US, but the consolation prize I got is a one year suppler of Krispy Kreme doughnuts!!!
best ever prize! ahhaah.
Oh.. here's a trivia… I authored their FB page -
https://www.facebook.com/krispykremeph
during my blogging and digital marketing freelancing stunt
Last Friday, we got an early celebration for Krispy Kreme's 78th birthday. And we celebrated it here in their first store in Bonifacio Global City.
photo op: at the 78th birthday party of Krispy Kreme in BHS
We also got a heads up from the Krispy Kreme marketing team that their Rockwell Powerplant mall branch just opened last Friday and also an upcoming store coming for SM City Lipa and also in other provincial malls.
Team PBNET will be there to check it out!!
Me, Ted and Myrna arrived late that night. Blaming now the traffic in EDSA and in BGC on a Friday night.
But we were' on the right time to join in a parlor game contest
Pinata style!!
We just wait for this balloon to pop and grab all the balloons and see if we found a prize inside it.
Bright Idea Events team were looking at one of the bags.
Because that night, I just won a Krispy Kreme red cap hahaha
awesome!
Since we're in a Krispy Kreme party…
expect an eat all you can treat of these yummy Original Glazed Doughnuts.
Oh boy..I just ate 3
--- busog pa kasi ako hahaha
But my new favorite is this… Latte cold drinks.
its so good!!!
To calm me down because I went so hyper during the game.
I tried designing my own doughnut cake.
Here's my design..
if there will be a contest, this might win the best colored combination award hahaha.
Ted Claudio starts to make his own decorated doughnuts.
photo op with my KK creations.
I learned that Krispy Kreme has an offer of a PHP10,000 worth of doughnuts and party package.
You can get this service if you want a Krispy Kreme party in your home or office.
take note: coffee is not included.
Myrns wearing her KK hat
Oh a KK Doughnut machine!
My creation featured on the table…
two photogs got attracted to it.
Oh the family who won the grand prize for the best photo op of the night
they won the PHP10k worth of KK party package.
Happy Birthday in advance to their little boy
Party goers.. hahahaha
Sana pala gumawa na lang din ako ng malaki doughnut cake
I made this for Ashton
And for Lace.
Spotted this girl making her own choco doughnut.
I told her to try decorating a Minion design.
Photo op entries for the contest
Too bad, that our entries weren't included..because we arrived late.
Oh this is new!!!!
KK staff got a nice nail art at the party
The winning entry
I even joked that on the 79th birthday of Krispy Kreme, I will also invite my family to come with me ahhaha.
Happy Birthday KK!
Here I showed to my blogger friends that I can post this photo on Facebook after a few seconds of taking a photo with my DSLR camera.
And oh..they were surprised… uploaded like magic
Can you spot the Wazzup bloggers? hahahah
Oh new doughnut babies!!!